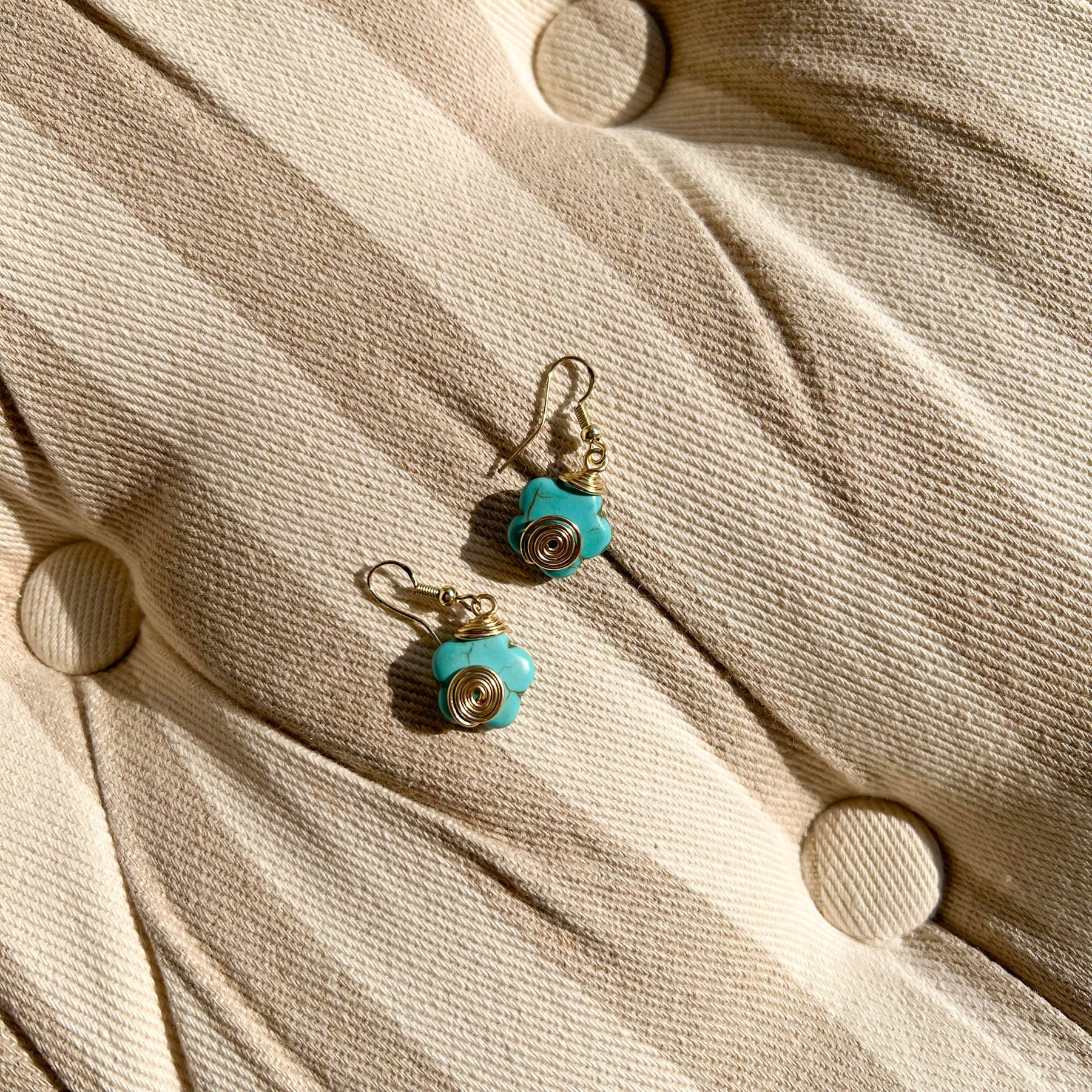 SORA, TURQUOISE STONE OF WISDOM
"Sora" means the Sky in Japanese. It is made of Turquoise stone which brings good luck, peace, protection and wisdom to the person. My mother made these specially for you!
925 silver gold plated. Turquoise Stone. Length: 3,5cm. Weight: 4g.
This is the cutest and precious earrings you will ever want. If you like cute, little bit of color and want to feel very very pretty, we recommend you our Sora! This will specially look cute with jeans and simple white t-shirt to really feel the summer. This gives you the most modest and cheerful look. Wear it with dresses, shirts, blouse and anything you like because you will look more beautiful.
To enjoy wearing your earrings for longer and in a good quality please follow these tips. Keep your jewelry dry and away from water. Put it on last to avoid chemicals (perfumes, hairspray, lotions and etc.) Remove during physical activities. Store separately in a soft pouch/box, keep it away from wood. Give your earrings some rest time to time. Lastly use it to bring even more beauty into your look and mood.
Our original gift box with silk bag, freebie stickers, thank you card/postcard, coupon code included in every order! 
Shape of the stone might vary since each of them are unique and made with love just for you.
Stunning
I am in love with these earrings, not disappointed at all! The design and everything about it is simply one of a kind. Thank you again! 🤗
Just beautiful!
Lovely pieces..hand made..excellent quality!
Beautiful
Very beautiful set of earrings, nicely crafted. It was also packaged so pretty as well.
Beautiful, comfy, lightweight
These earrings look beautiful, are very comfortable to wear and lightweight. The packaging is a gift on its own 😊. Really love these! Patiently waited for them to be restocked and it was worth it! I came back to purchase another set but have to wait again 😅. Please than your mom for making these beautiful pieces 🖤
Stunning earrings for every occasion ✨️
I've dressed these earrings up and down. They just complement every outfit. I love the turquoise colour! Very well made with lots of attention to detail!
Thank you for your review!
Our Turquoise earrings are one of our favorites and best seller! Can't wait to see you for your future orders and Have a beautiful day!